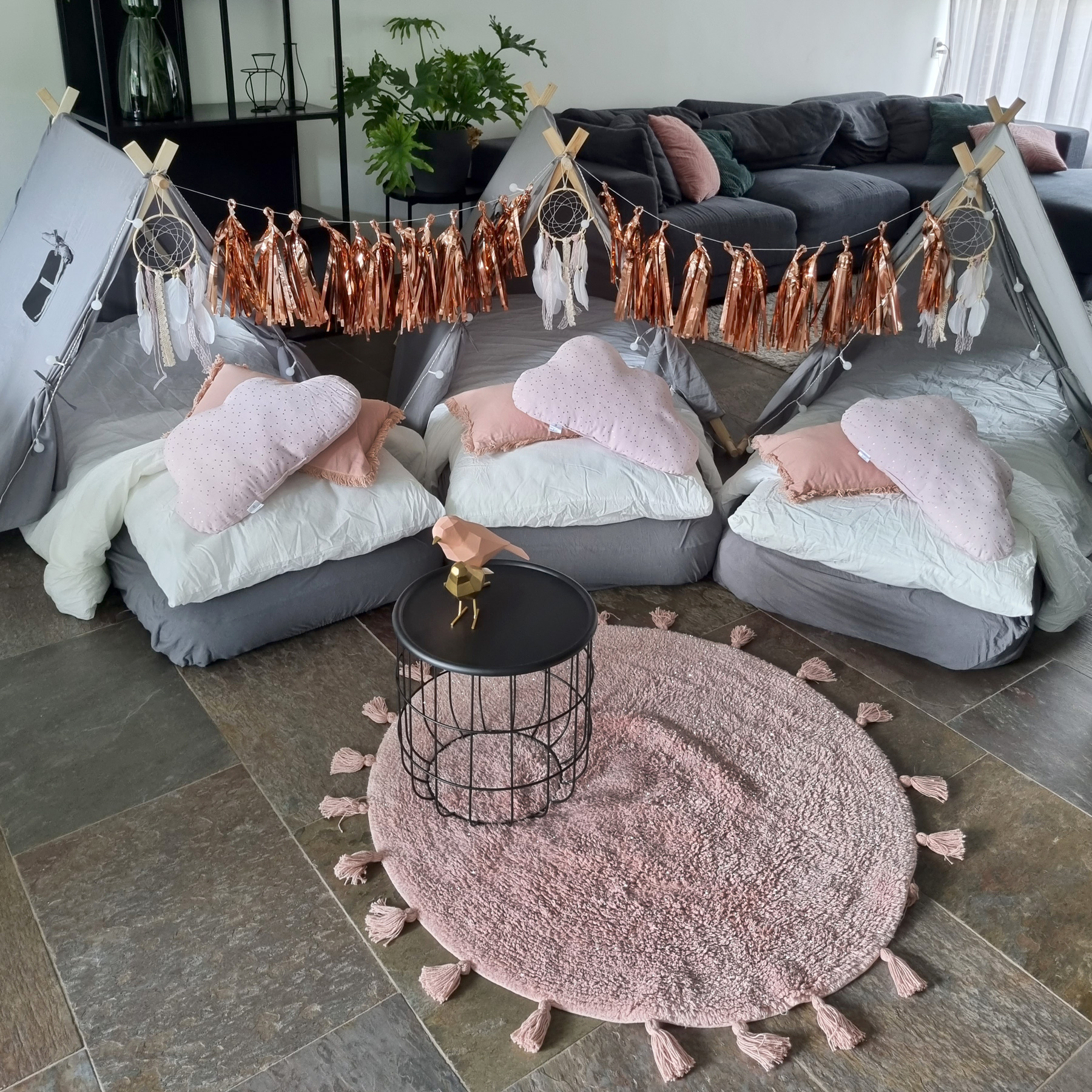 Children's party, with sleepover party, at home in Meerhoven
What could be more fun than a sleepover party at home with tents in Eindhoven. All your girlfriends and boyfriends from Meerhoven together who stay overnight. Watch a movie or just talk all night and do games. Do you think it will be a sleepless night in Meerhoven, or will there be some sleep?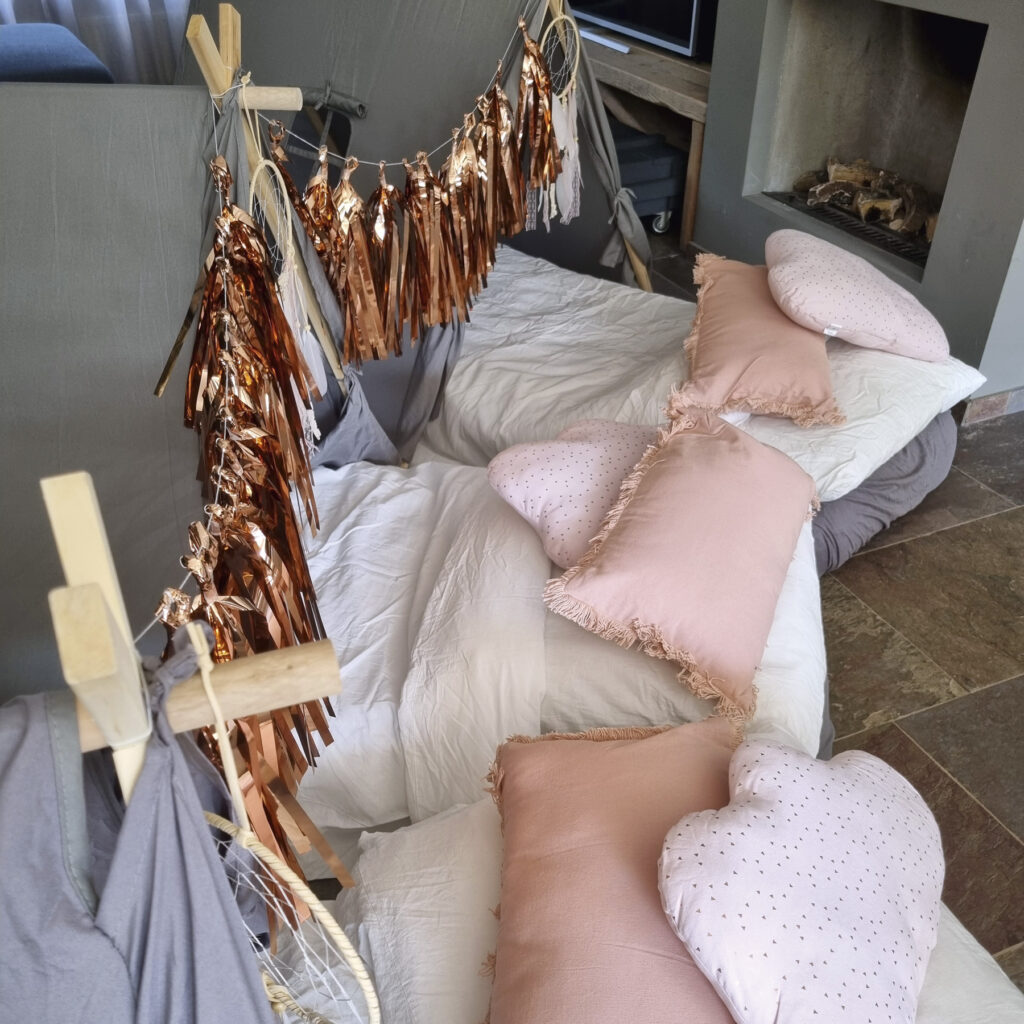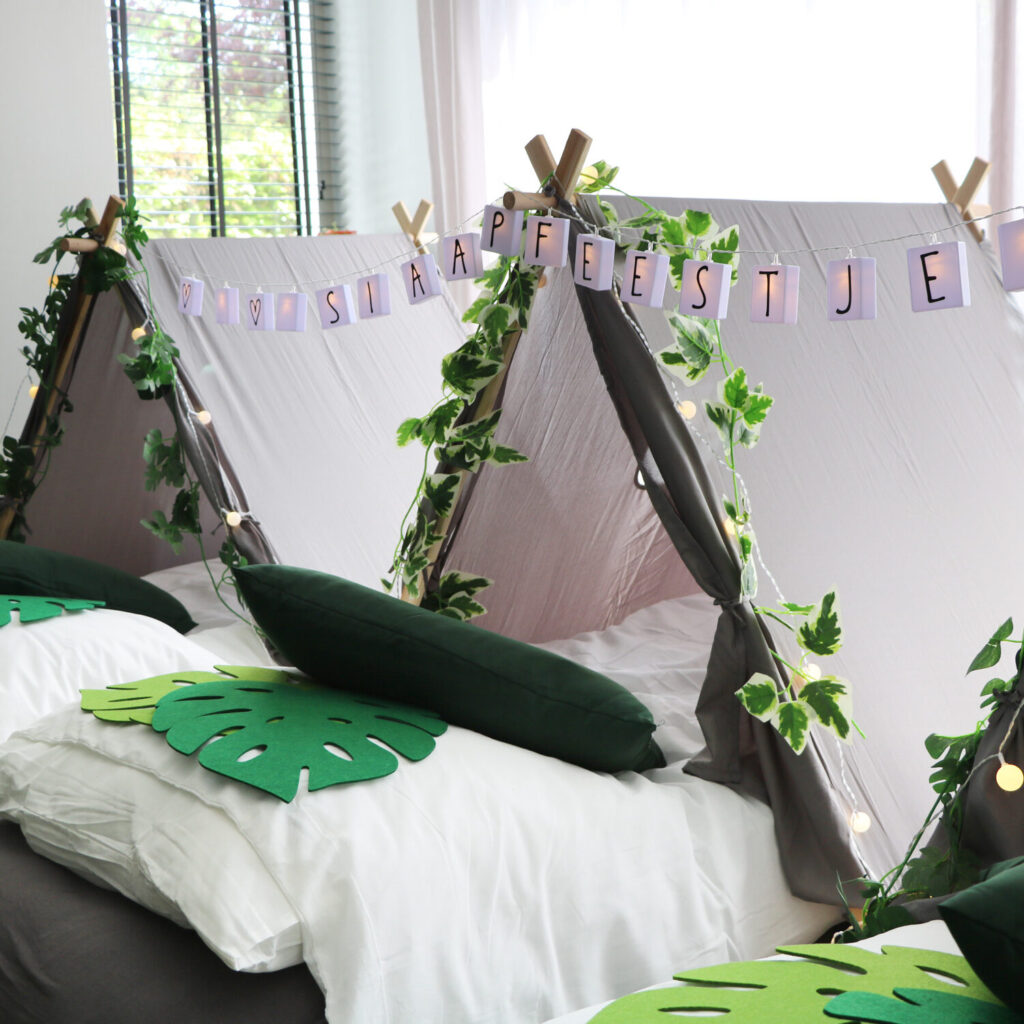 CHOSE YOUR SLEEPOVER THEME
Thanks to Slaapfeestje Thuis, this is very easy. You rent a complete set of tents in the theme of your choice, for example pink (roze) or green (groen). We ensure that the tents and amazing sleeping gear are ready to be picked up in Son en Breugel. There is even an opportunity to have extra options like a jungle or dinosaur package. Will the jungle beast or dinosaur take over Meerhoven for one night? A kind of Jurassic Park or Jumani 😉 Good movie hints by the way for the children's party. 
PICK UP YOUR SLEEPOVER PARTY
After you select the date for your slumber party, maybe your birthday, you pick up the tents in Son en Breugel. This is not that far from Eindhoven and Meerhoven. You drive on the N2 and within 20 minutes you are at Slaapfeestje Thuis. Whether you live in Grasrijk, Meerbos or Waterrijk, your children's party will be a great success!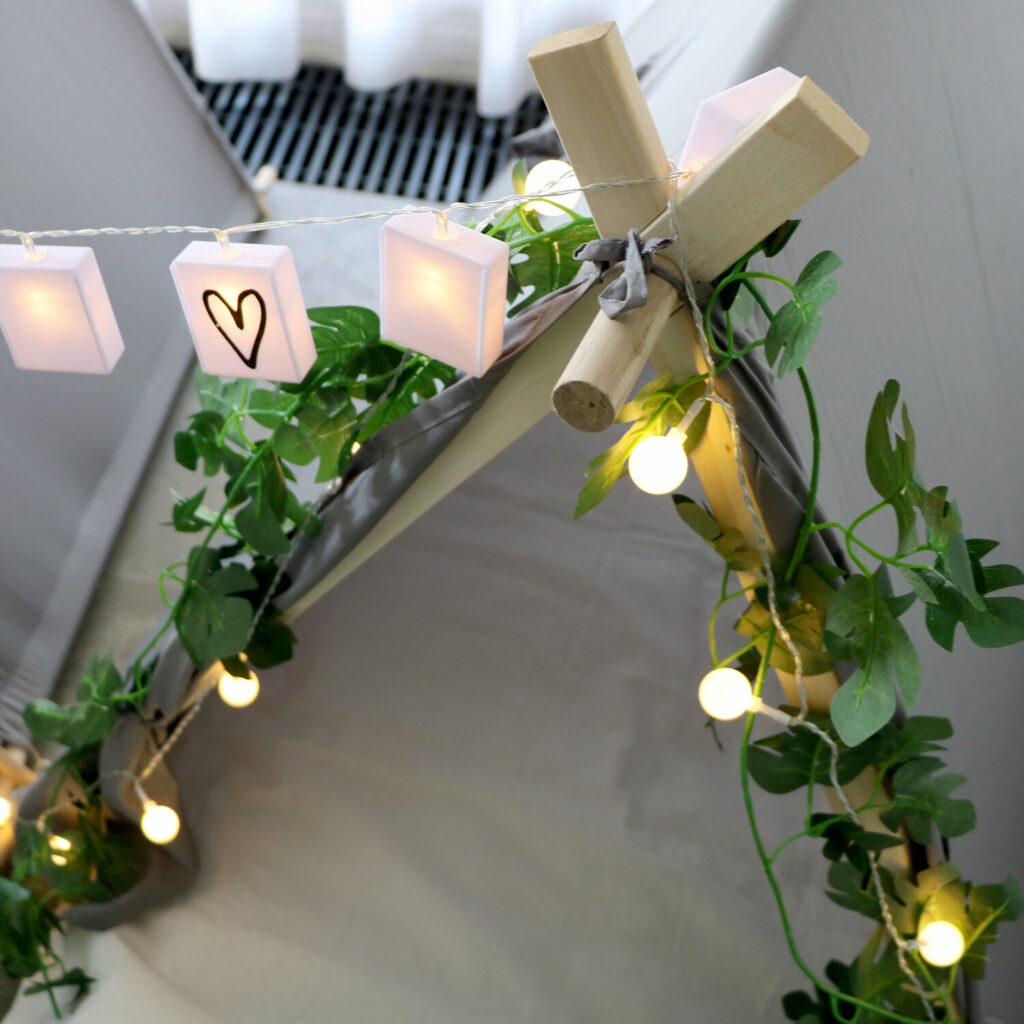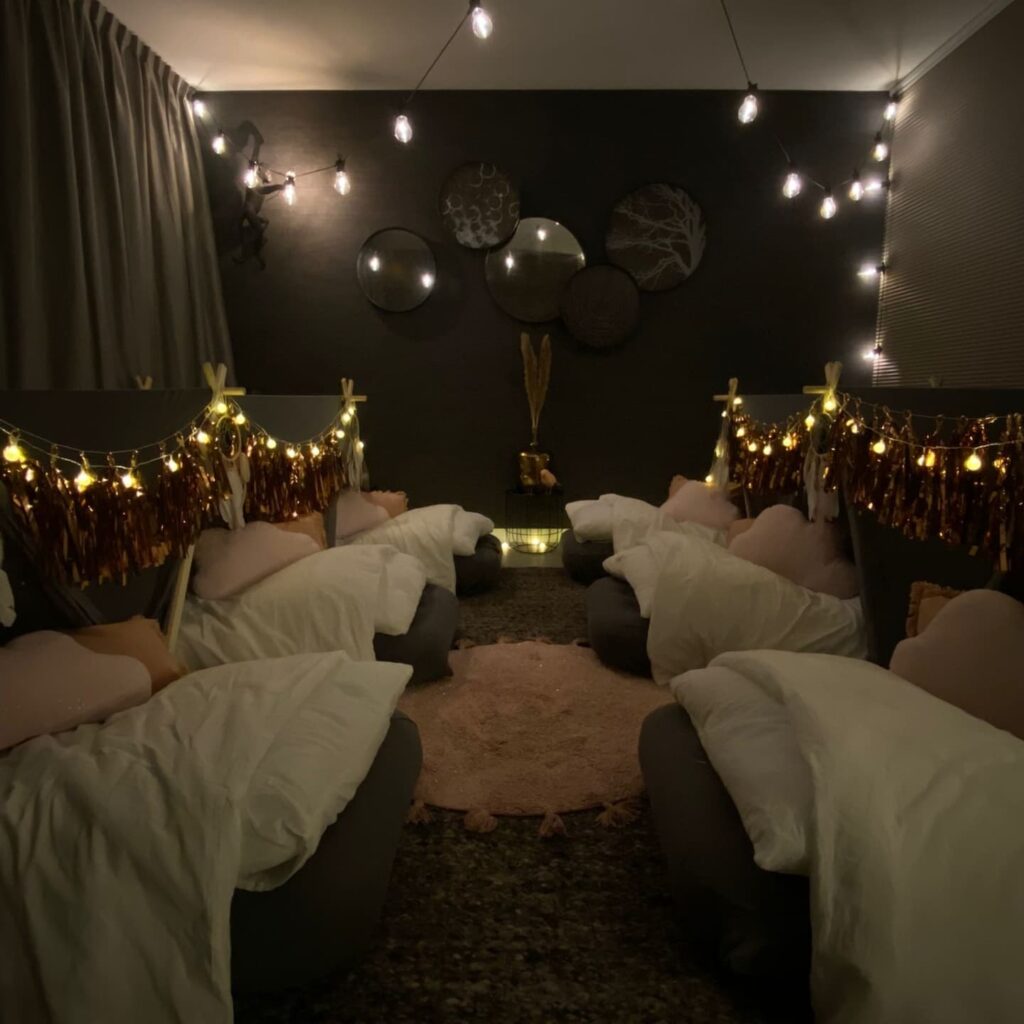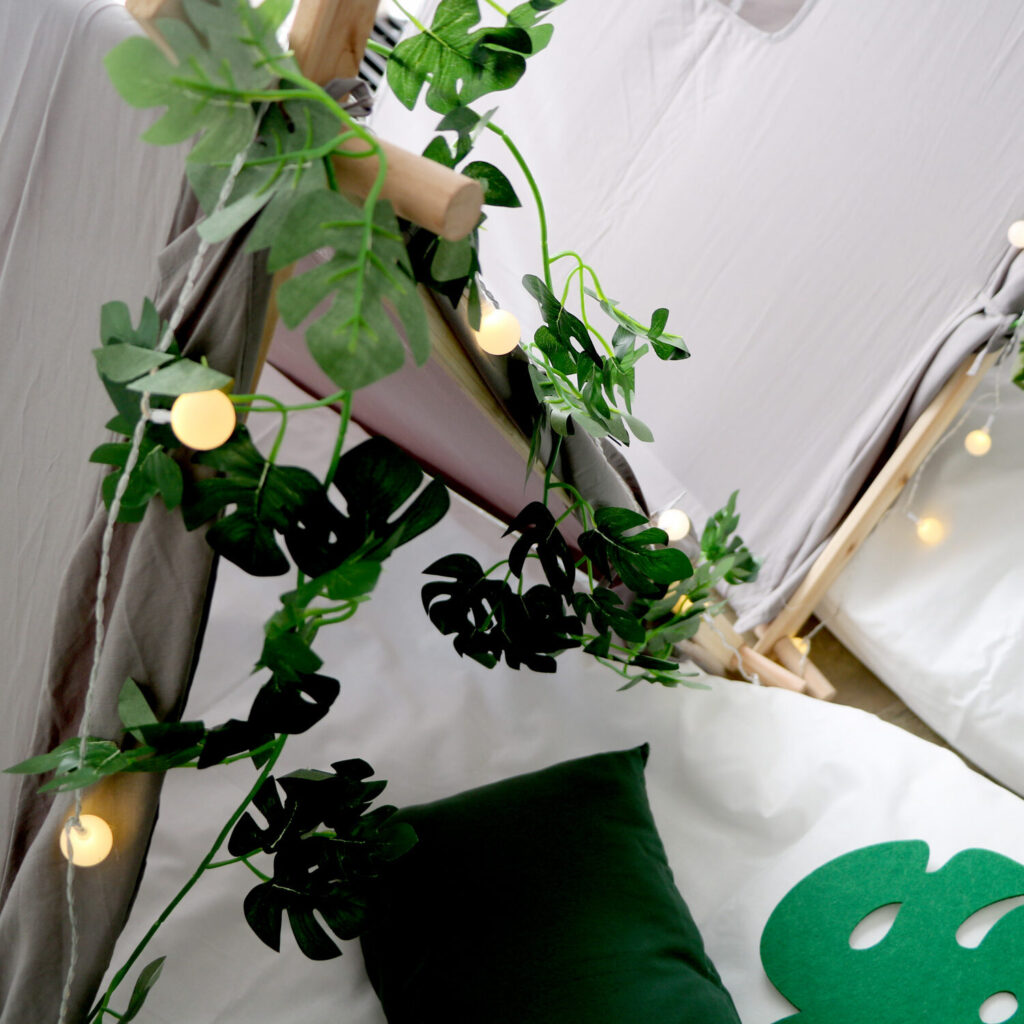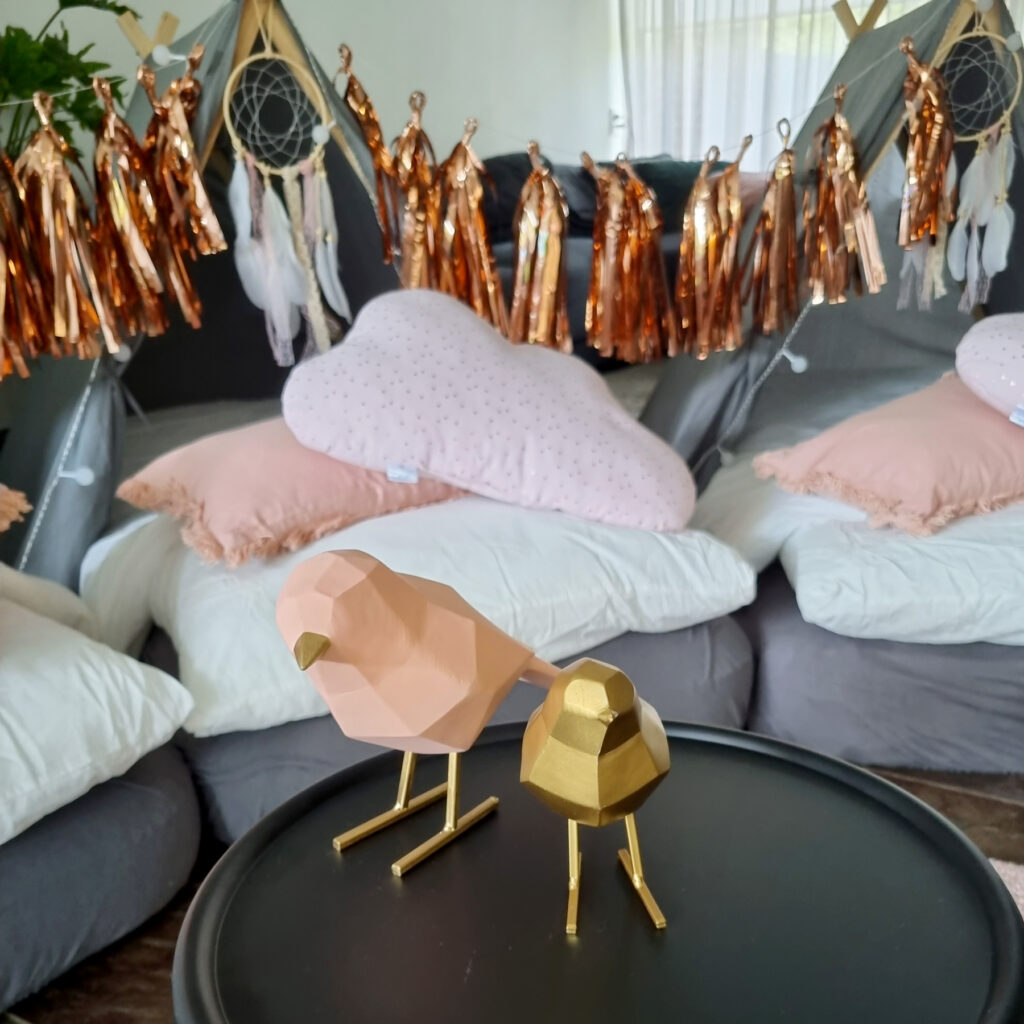 HOW DOES THE SLEEPOVER PARTY WORK?
The complete set consists of a bed with duvet cover to sleep on per person. At least, when it comes to sleep during the sleepover party. We have also included nice lights and decorations to brighten up the supplied tents you put in your home, for example the living room, bedroom or loft. It takes up some space, but Slaapfeestje Thuis also has the option of renting from 4 people up to 8 people. After the sleeping party is over, you packing up the tents and bring them back. Slaapfeestje Thuis will do the laundry.
SLEEPOVER WITH FRIENDS
How nice is it to invite classmates from basisschool 't Slingertouw or De Startbaan to your children's party. A pleasant evening continues in a sleepover party. Maybe with pillow fight and little sleep! And the next morning have a delicious breakfast together. Of course you can also invite club members. It doesn't matter whether they are members of DBS, MVC de Hangar, Tennis Vereniging Meerhoven or Scouting Meerhoven. With Slaapfeestje Thuis it's always a party!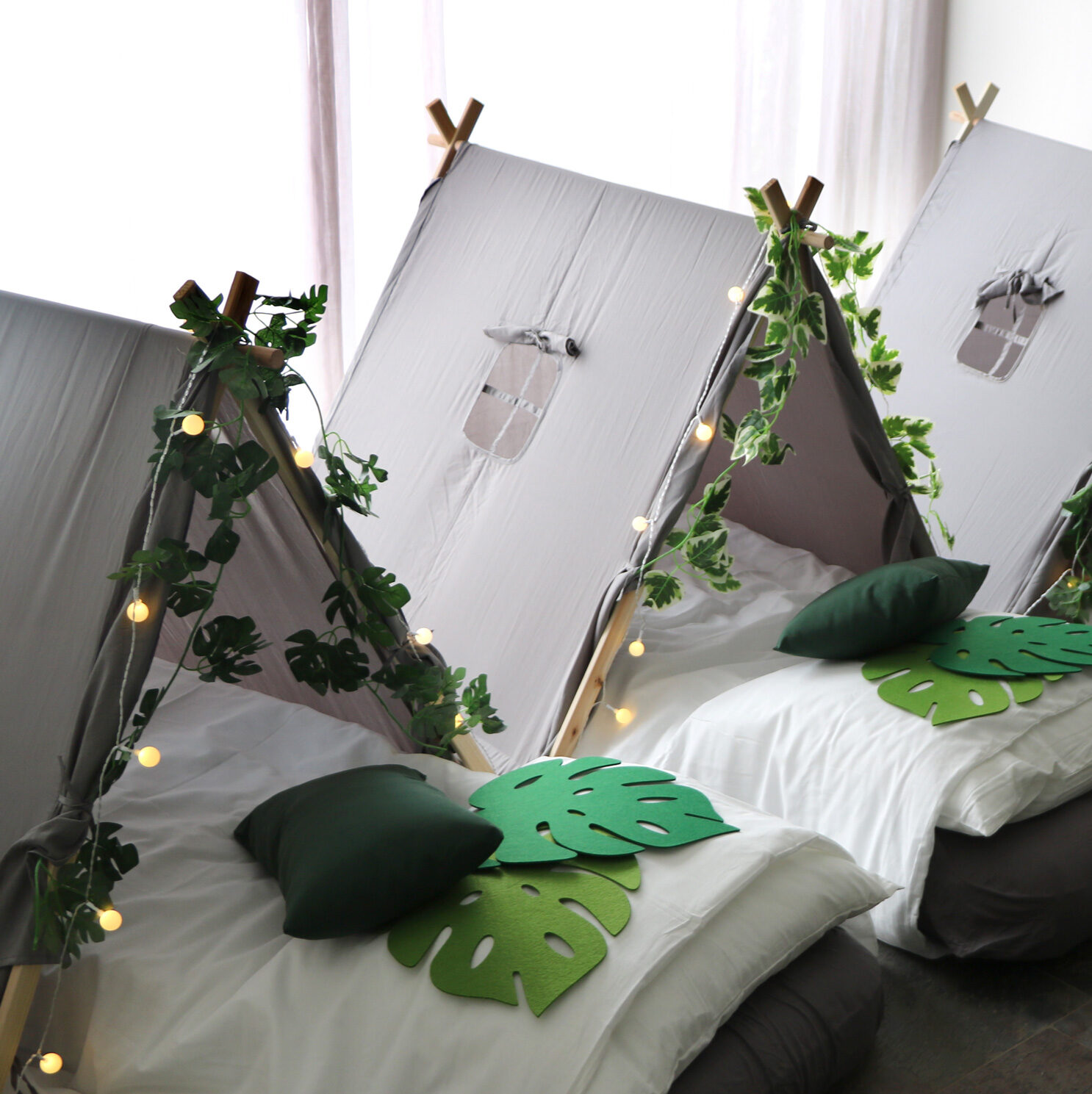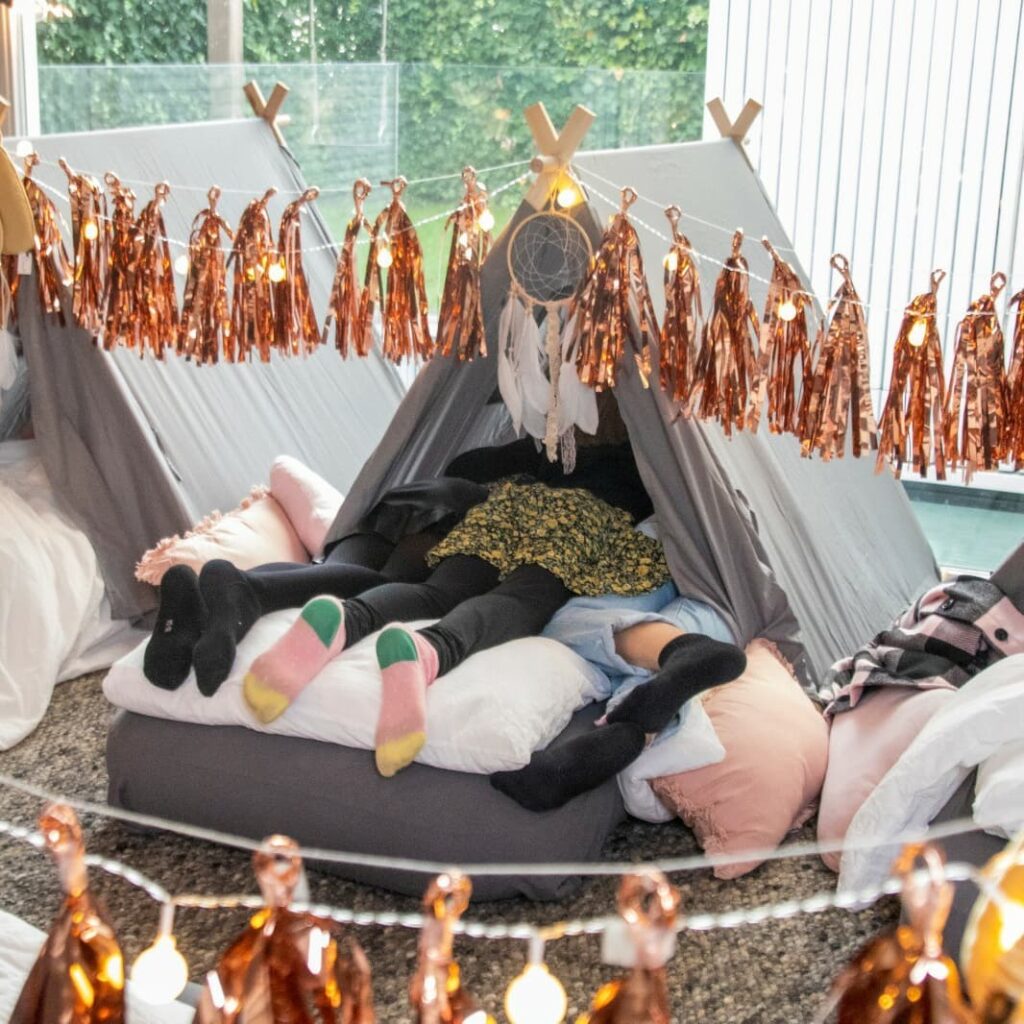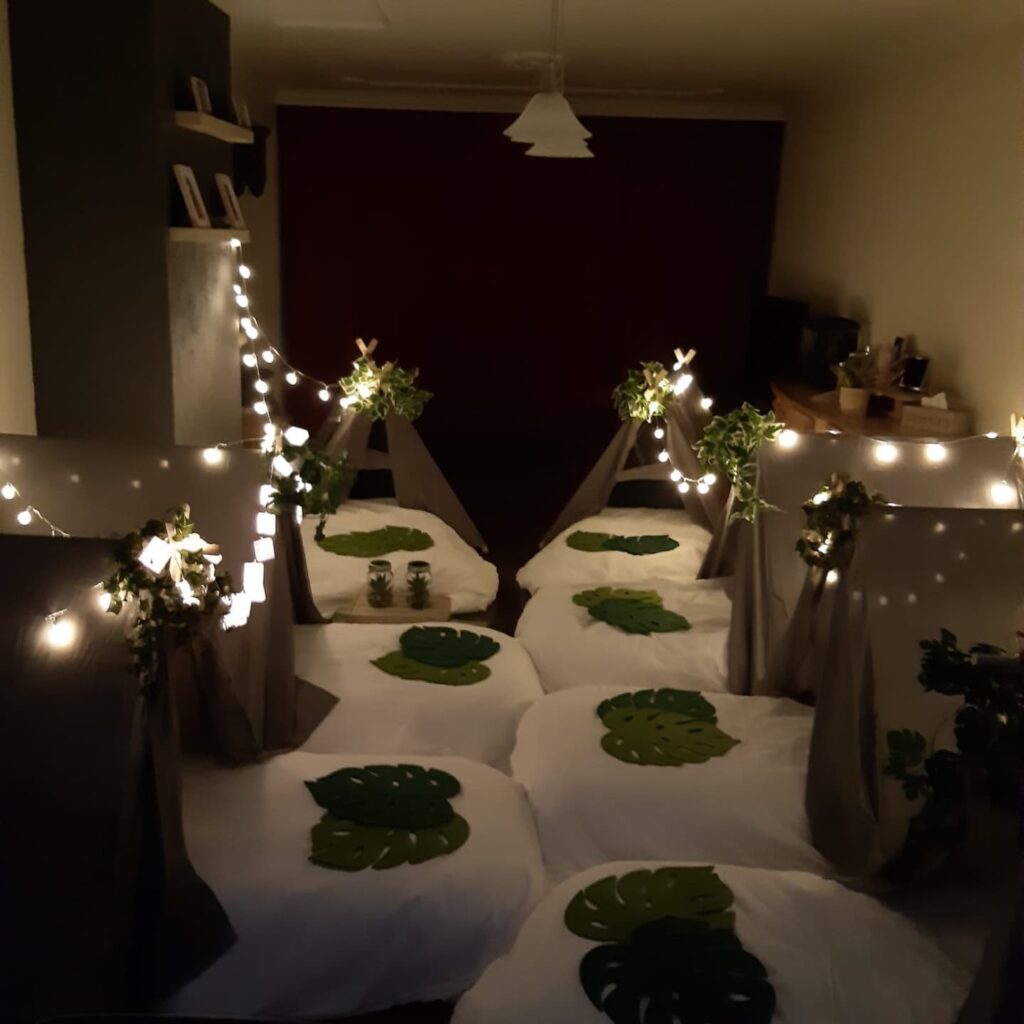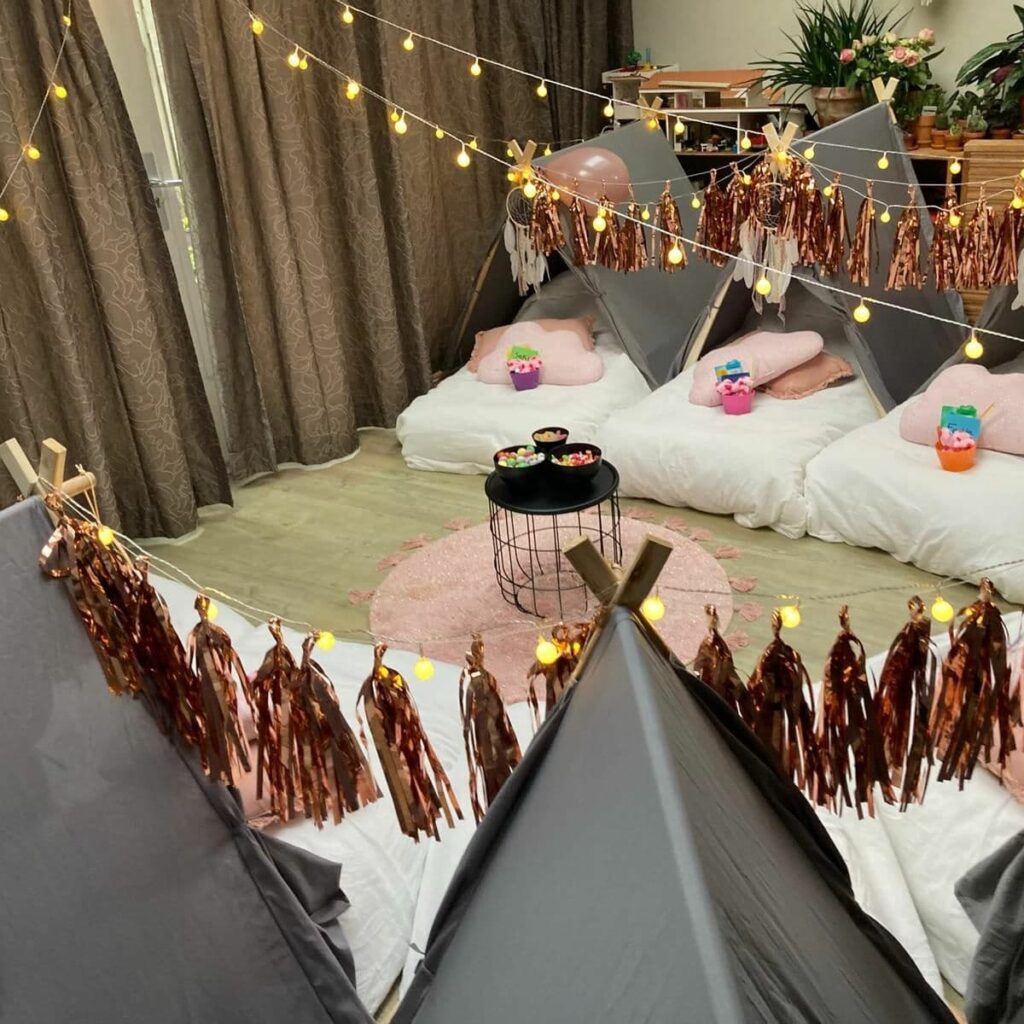 EXPATS SLEEPOVER
When your'e an expat it's not always easy to find connection with other people in your neighborhood. And what about you kids? Wouldn't it be nice if your daughter or son can invite children from school or street for a sleepover party at home? Isn't it always the right time to party?! Even when it isn't time for a birthday. So make your reservation. If you can't quite figure it out with the Dutch texts on the website, send an e-mail to info@slaapfeestjethuis.nl and we will help you quickly.
Slaapfeestje Sint Oedenrode
Slaapfeestje Veldhoven
Slaapfeestje Nuenen